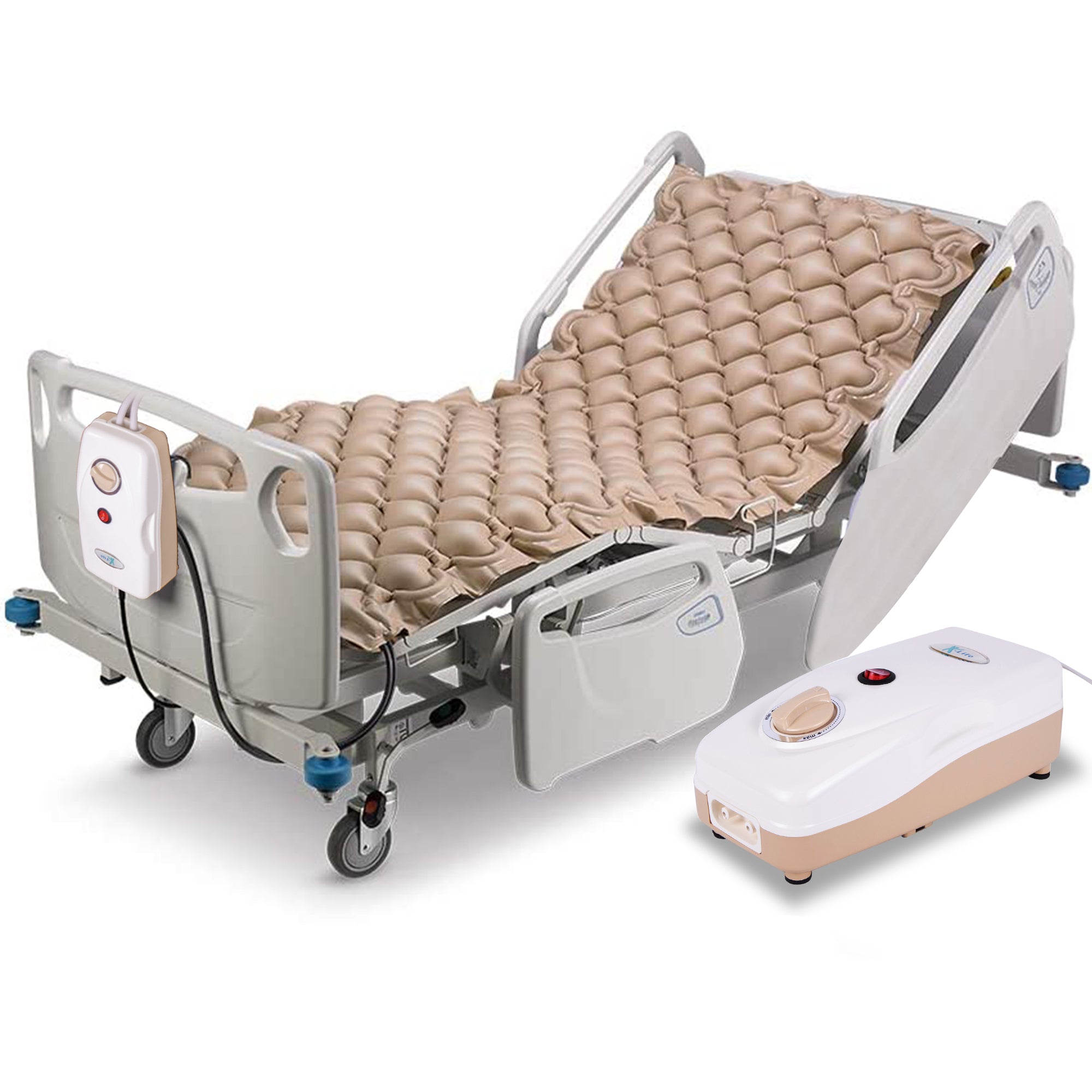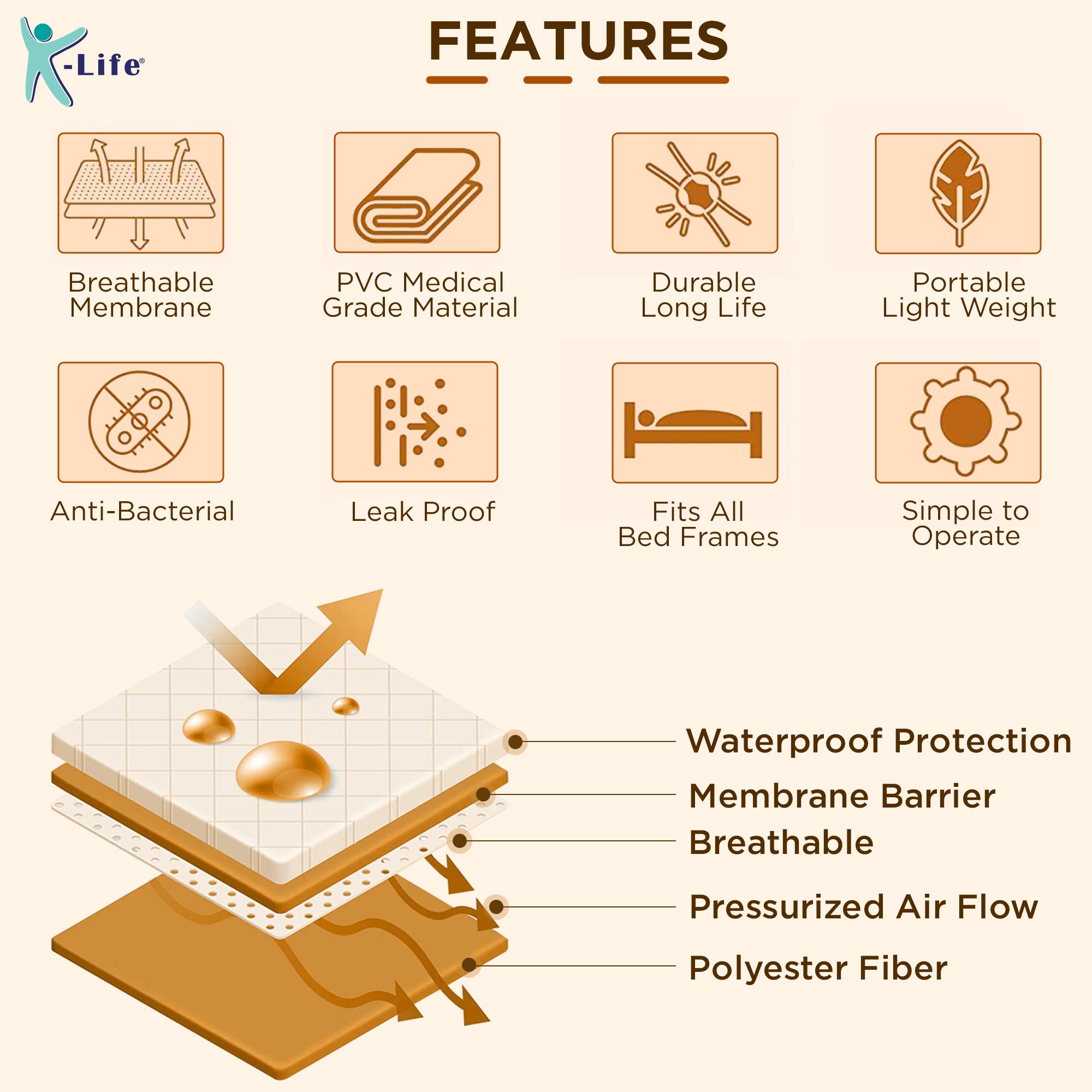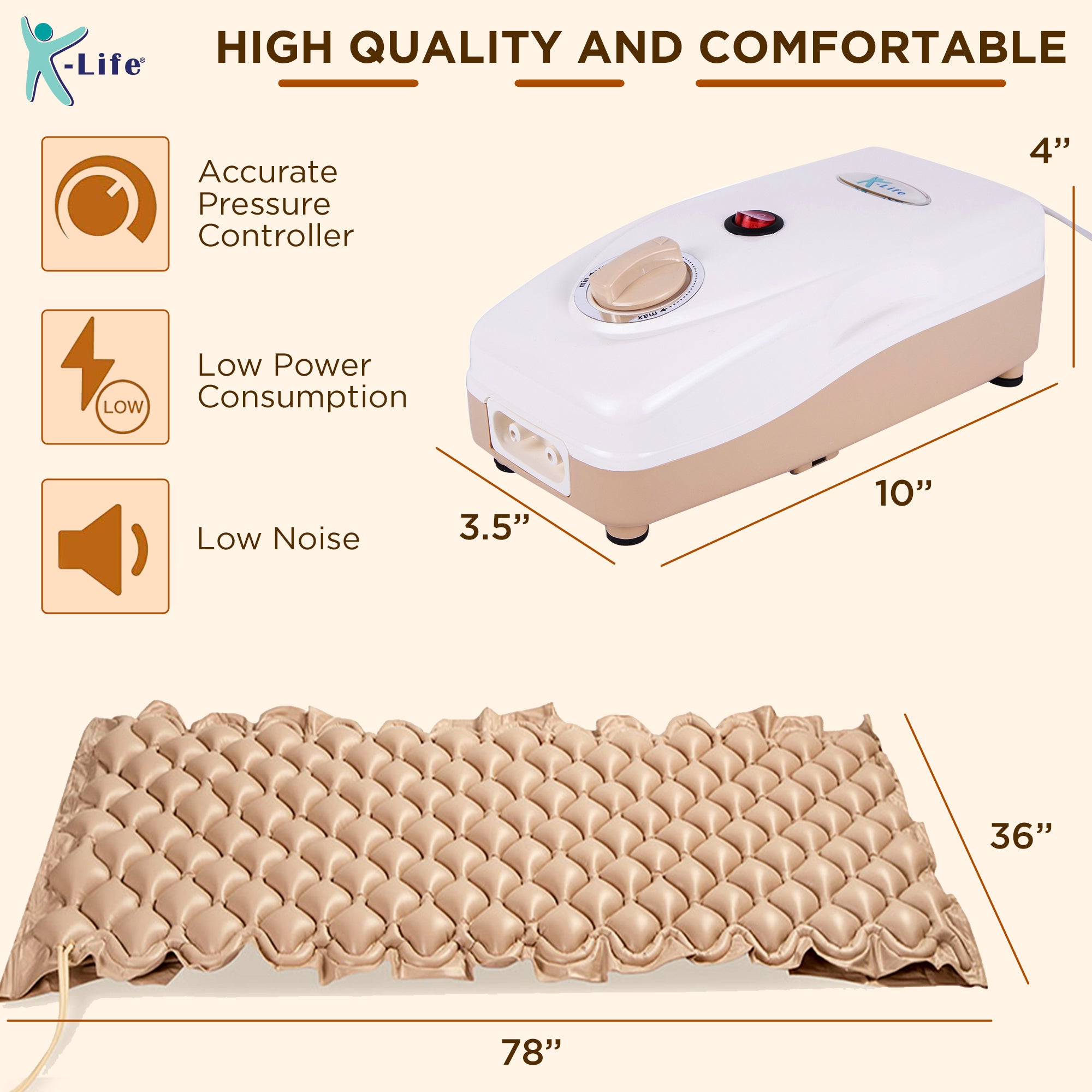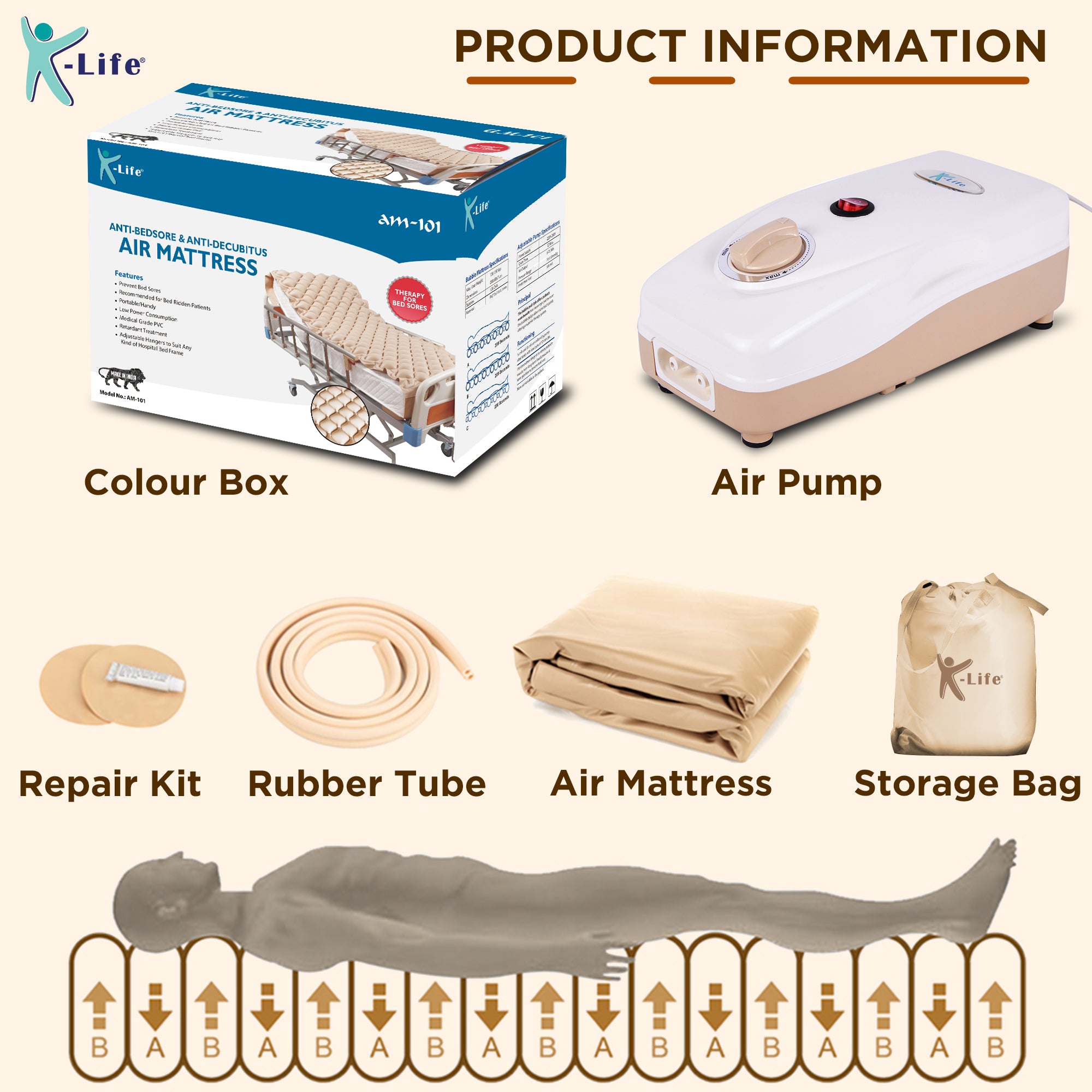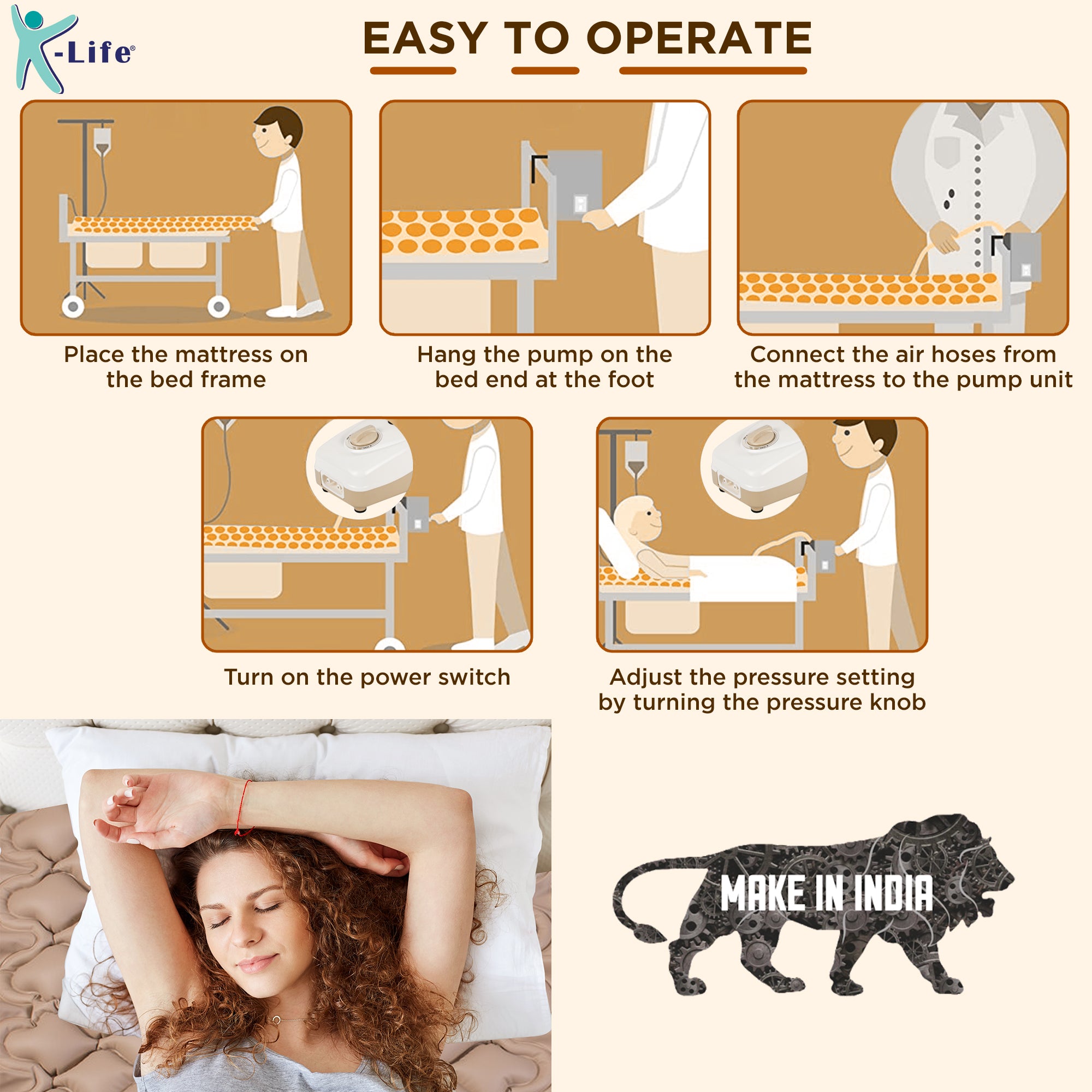 K-life AM-103 Portable Anti Decubitus Air Bed Adjustable Pump System Medical Grade PVC Bubble Mattress for Prevention of Bed Sores Patients
All products delivered within 4-6 days.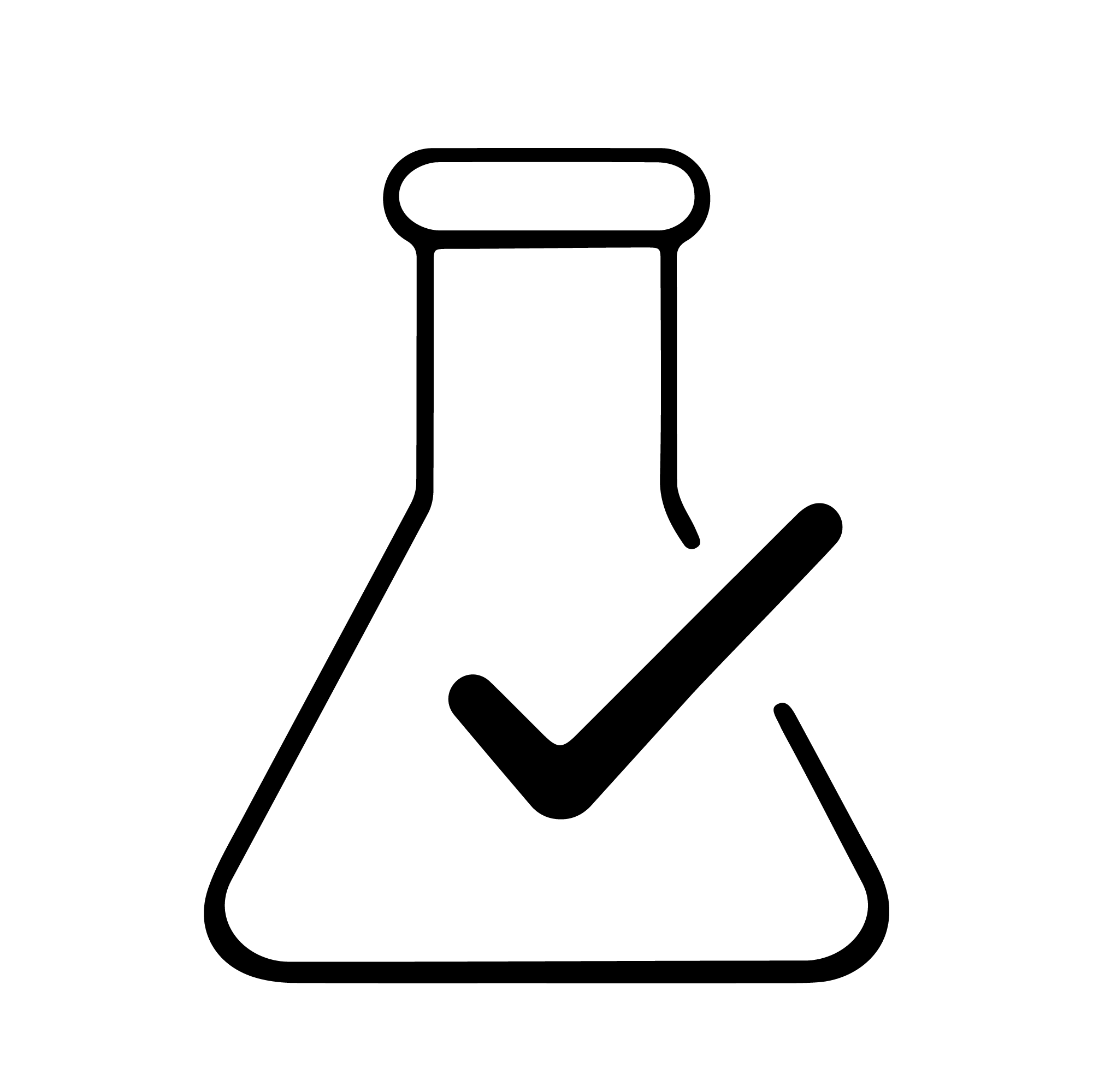 Lab Tested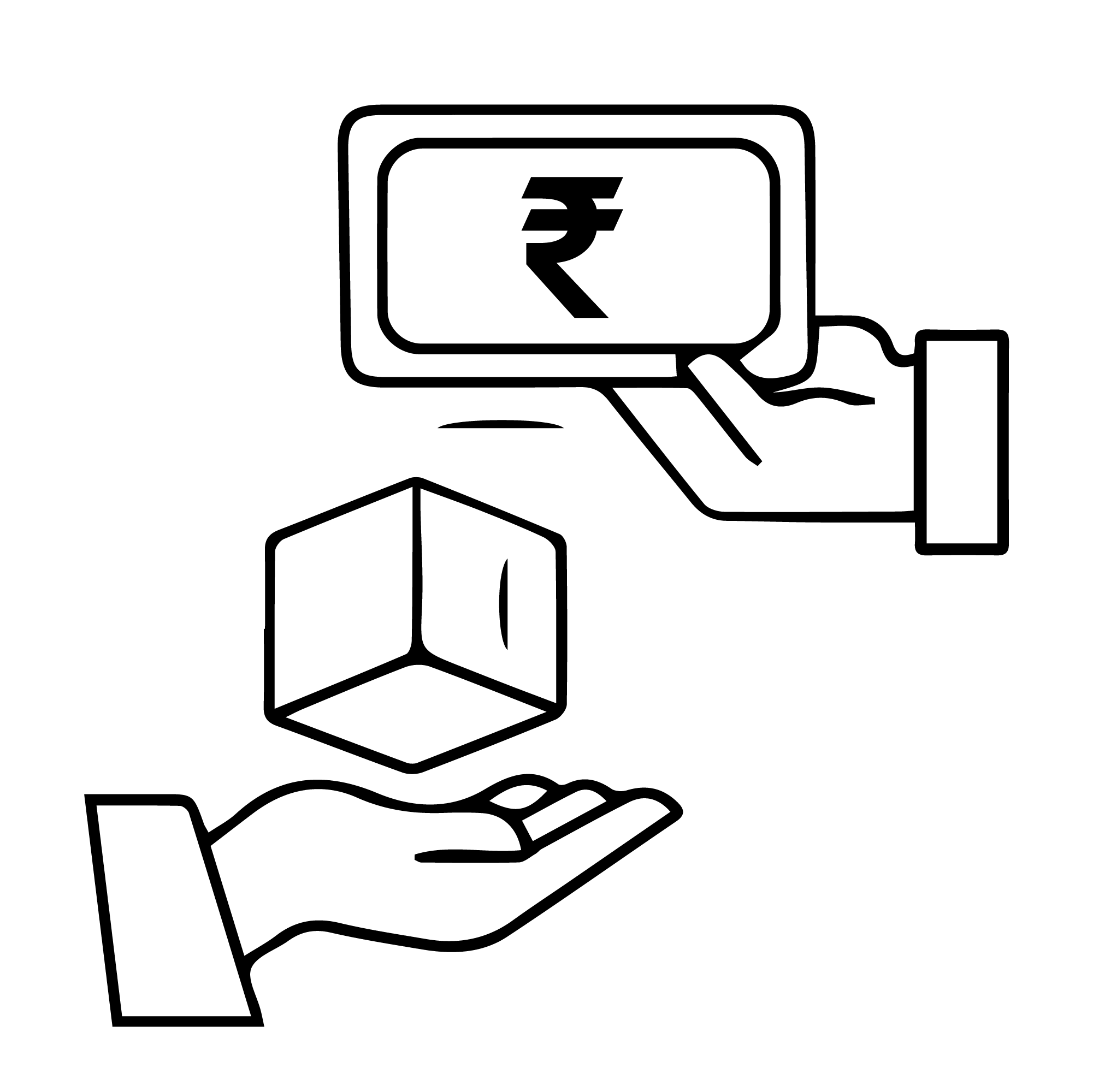 Cash on Delivery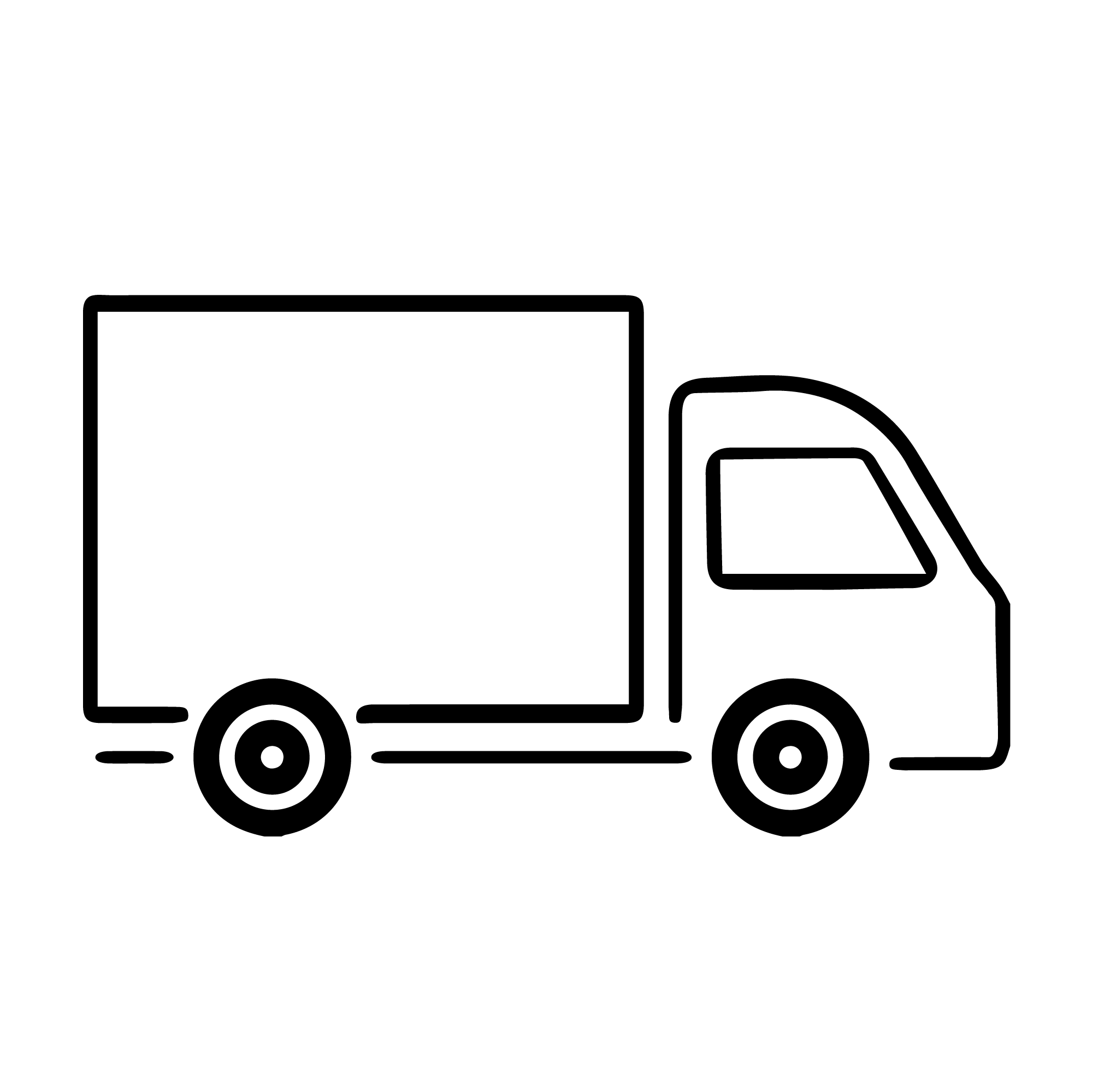 Free Shipping
K-Life AM-103 Anti Bed Sore Air Mattress is an unparalleled solution designed to help bedridden individuals in having a good night's sleep! Crafted from high-quality medical-grade PVC, the air mattress offers exceptional comfort. Its durable construction includes a breathable membrane, allowing patients to rest for extended periods comfortably. The K-life Air mattress is compatible with all bed frames and is capable of supporting a maximum weight of 110 kilograms. The AM-103 Anti Bed Sore Air Mattress can be customized to suit your patient's preferences using the adjustable pressure knob, regulating the air bubble pressure to optimize their comfort. The K-Life AM-103 Anti Bed Sore Air Mattress is not only lightweight and portable but also incorporates low-noise technology, making it an ideal choice for various settings such as homes, hospitals, and nursing homes. If you have a loved one who is confined to bed and requires prolonged immobility, provide them comfort with the K-Life AM-103 Anti Bed Sore Air Mattress today!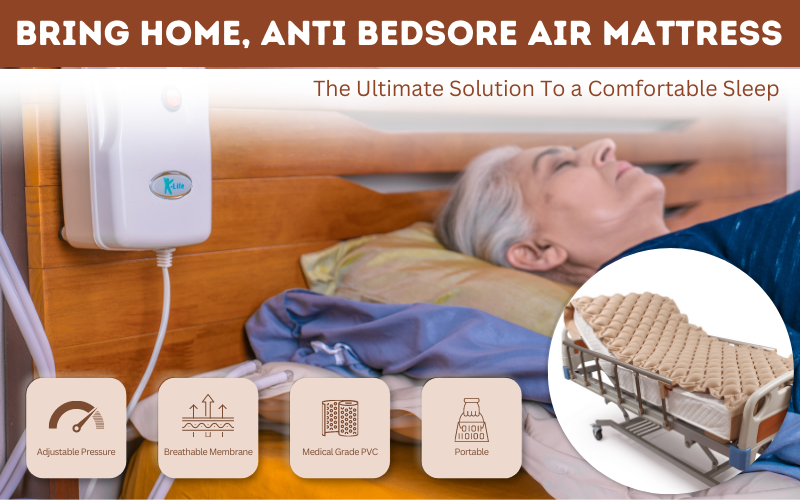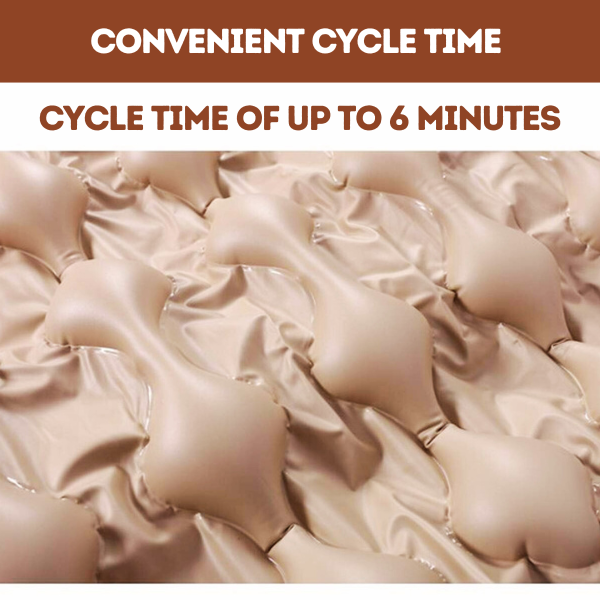 Convenient Cycle Time
The K-life AM-103 Anti Bedsore Air Mattress has a convenient cycle time of up to 6 minutes that ensures even pressure regulation throughout the mattress.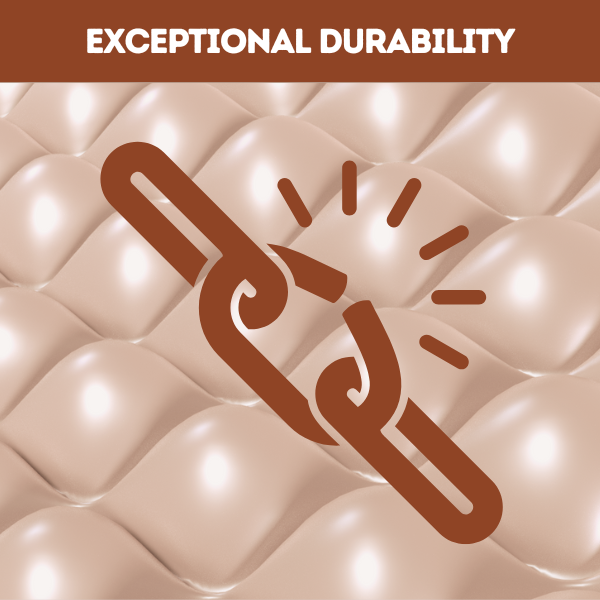 Exceptional Durability
Our puncture-resistant PVC material ensures long-lasting durability, allowing you to enjoy the mattress for years to come.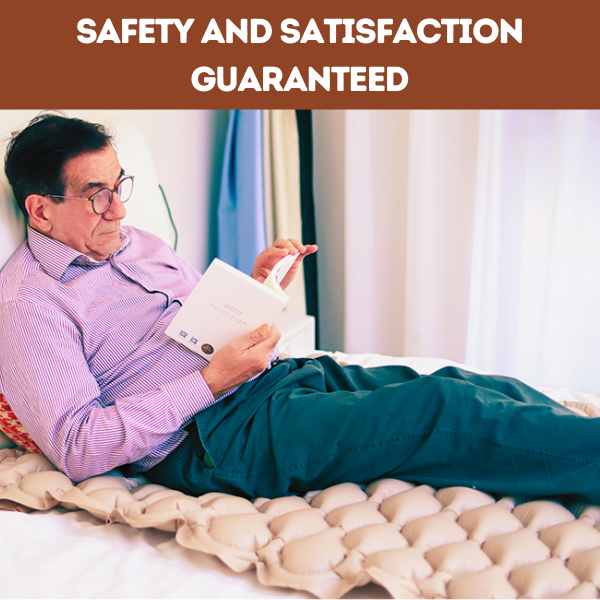 Safety and Satisfaction Guaranteed
We prioritize your safety and satisfaction. Rest assured that our air mattress meets the highest quality standards.
Impeccable Comfort
Indulge in the luxury of our premium AM-103 Anti Bedsore Air Mattress that offers superior comfort and support, promoting a restful night's sleep.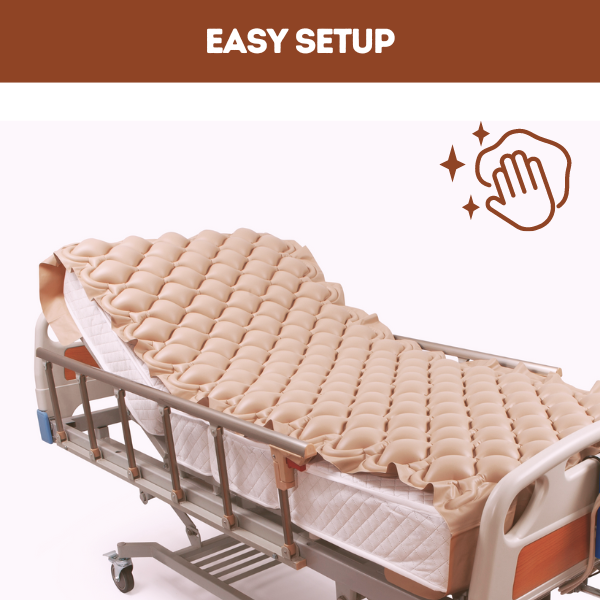 Easy Setup
The AM-103 Anti Bedsore Air Mattress comes with an electric pump that can effortlessly inflate and deflate the mattress, saving you time and effort.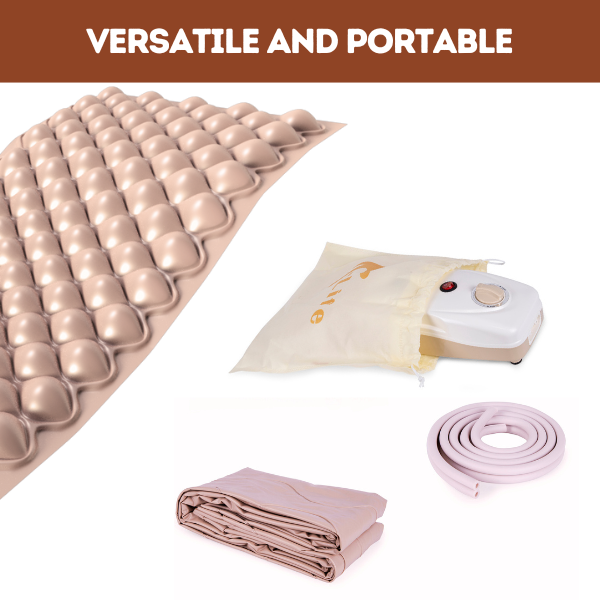 Versatile and Portable
From hosting guests to camping trips, AM-103 Anti Bedsore Air Mattress from K-life adapts to your needs, providing comfort and convenience wherever you go.
How to use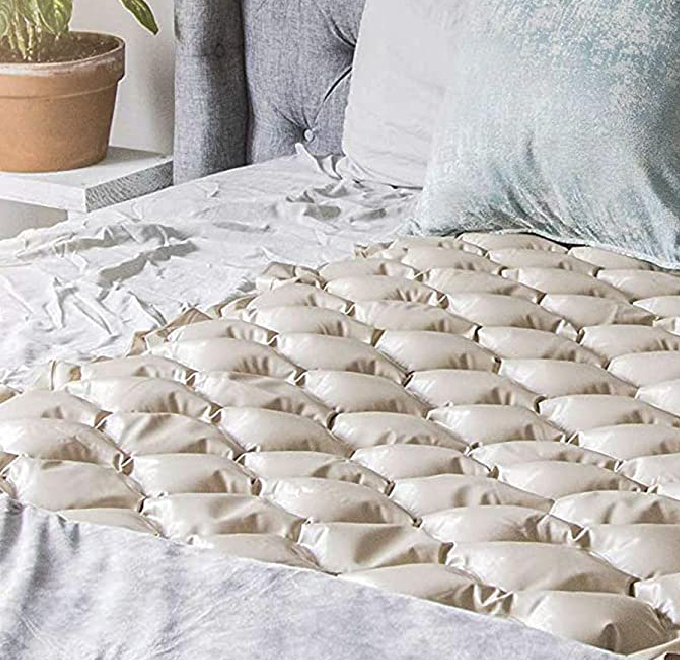 Place the air mattress on the bed frame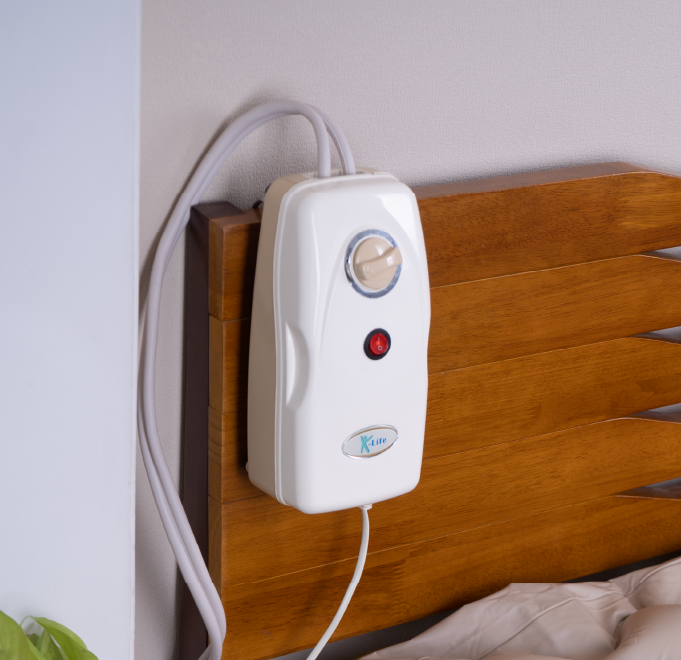 Hang the pressure pump on the foot side of the bed.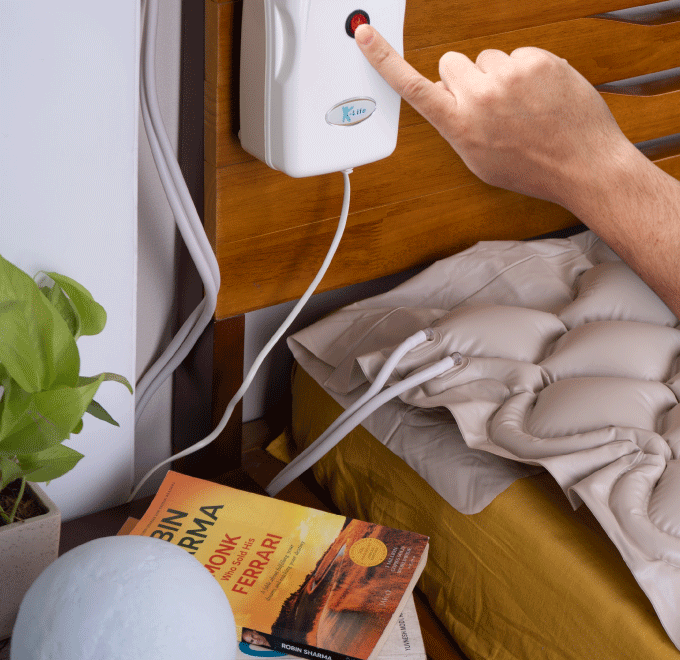 Connect the air hoses of the mattress to the pressure pump and switch on the power connection.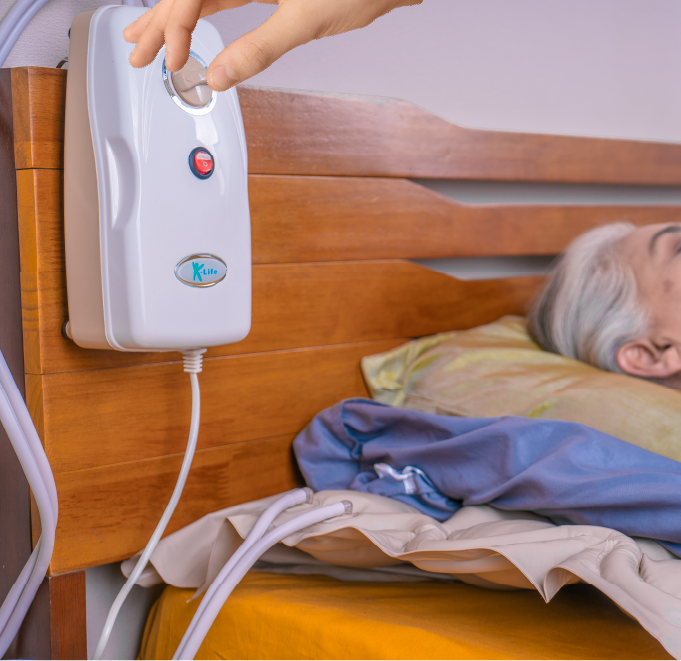 Carefully adjust the pressure setting by adjusting the pressure knob to find a comfortable pressure for the patient
Select from a wide range of products
With our wide range of healthcare devices, choose the best options to track and improve your health.
Shop by Health Needs
From blood glucose levels to blood pressure, we have a monitor for all your health monitoring needs!